COVID-19 Update: 
In accordance with guidelines issued by the Governor's Office, the Mesquite Golf Club is open for business! To protect the health and safety of the public and employees, new standards have been implemented that will guide the operation of the course and reinforce the importance of social distancing and safe golfing practices. To ensure a pleasant and safe experience, golfers will be required to provide their own clubs and abide by the following regulations: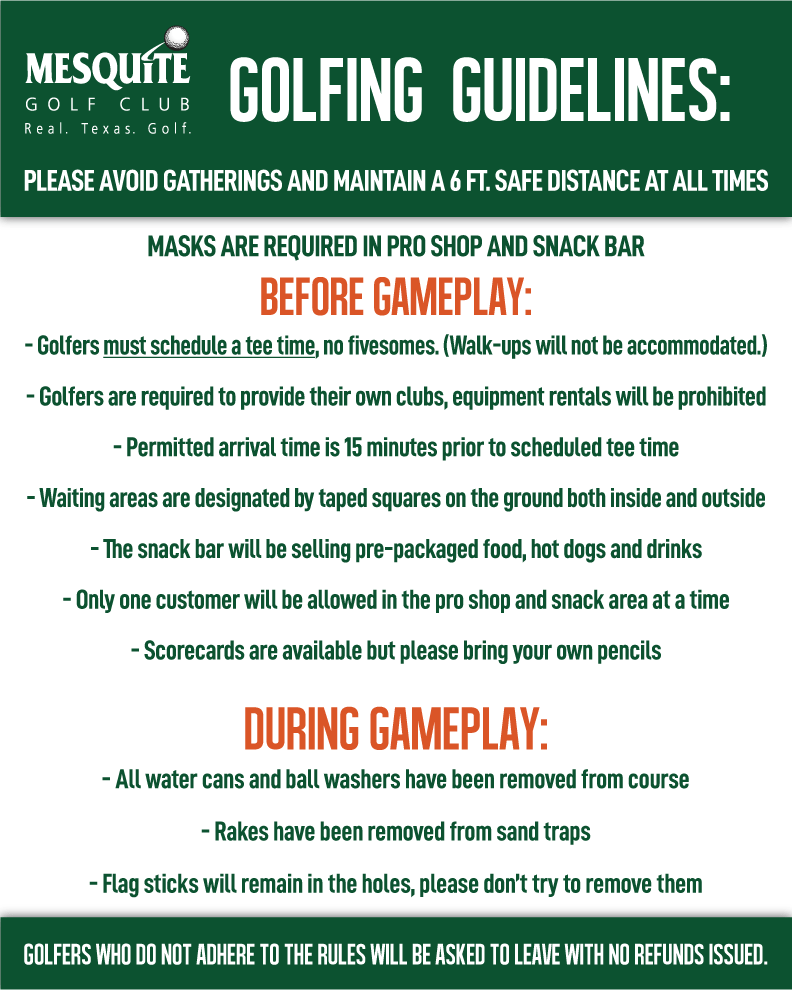 About Mesquite Golf Club
The Mesquite Golf Club is a municipal course owned and operated by the City of Mesquite.  Located in the Duck Creek floodplain, it was built in the 1960s by Leon Howard.  Originally opening as a 9-hole course, it expanded to 154 acres and 18-holes two years later.
After several years of private management in the 2000's, the City resumed operations and the course underwent a massive renovation project in 2013.  The course expanded from 6,100 yards to 6,980 and included the addition of Champion Bermuda greens and 20 new bunkers.  Improvements were also made to the snack bar and pro shop adding public Wi-Fi access and an on-course restroom. All the renovations have drastically altered the way the course is played, making it much more challenging, but with multiple tee locations, it still allows for a variety of skill levels. The course reopened in 2014 and was named Course of the Year by the Texas Turfgrass Association.
With a convenient location, 4-hour rounds and reasonable prices, Mesquite Golf Club is worth the visit!
Course Hours:
Monday – Sunday  7:00 AM – Dusk
Driving Range Hours:
Monday – Sunday  7:00 AM – 4:30 PM